House Moving Miracles are a McConnell Trademark
McConnell's is Alberta's Largest Building Mover with Experience that Spans 3 Generations
McConnell Building Movers have been relocating large structures in Central Alberta for so long, Social Credit was the party in power when we began.  Jim McConnell learned the building moving trade from his father, Phil "Slugger" McConnell and in 1971, Jim went on his own with a set of wood beams and a couple of jacks. Keeping it all in the family, Jim's son, Jason, now runs day-to-day operations out of our Millet head office.
Rather than diluting our combined years of experience with multiple teams, the McConnells choose to operate with just a single, well-seasoned crew, which has the quiet confidence that comes with almost a century of experience in challenging infrastructure relocation projects.
In the last 10 years McConnell has solidified the company's position as the premier structural mover in Alberta. We have designed and built new technologies for our trade, such as hydraulic dollies that create an exclusive, state-of-the-art, large capacity transportion platform. Check out our equipment section on this site to see how our latest additions can remove the worry from the most challenging building reloaction projects.. 
At McConnell, we truly believe size doesn't matter, as our company has performed large scale relocation work for:
Alberta Government
Ledcor
Weyerhauser 
Edmonton and Calgary LRT
Got a large project? Let McConnell do the heavy lifting
Located near Millet, Alberta, we are only 30 minutes south of Edmonton.  We move all types of buildings including houses, barns, cabins, industrial, tanks, as well as many historical restoration moves. Whether you need to move across town or across Alberta, make the right move with McConnell. We are also there for you if you just need a new foundation, we can help you. Simply let us know the next time you need a lift.
McConnell Movers; Providing Industry Leadership since 1981
Jim McConnell is a founding member of the Alberta Building Movers Association. We have been members of the ABMA since its inception in 1981.  Jason McConnell, the co-owner and operator of McConnell Building Movers, is the current president of the association.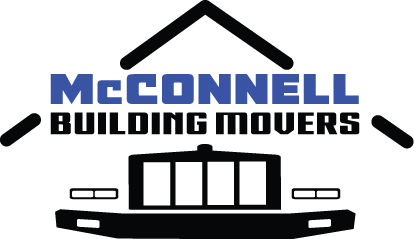 Building Mobility in the New Millennium